Welcome to the Celestia Ludenberg outfit making of guide! Back when I first started my Celestia Ludenberg cosplay I wasn't yet saving stream footage as I had no intention to do anything with it once I was done. When I started the wig, I realized this might be a project I want to be able to make into a tutorial later, so I started saving the footage then. Fortunately that enabled me to make the wig tutorial! Unfortunately that means I am missing a decent amount of footage for the beginning of the cosplay. Because of this, I am calling this a making of guide rather than a tutorial. I will try to explain everything as best I can with the content I have (and maybe make some graphics along the way), but there will not be a video tutorial for all of the outfit.
This guide is written exactly how I made my outfit. Note that many parts of this will require significant sewing experience. While I will do my best to explain things clearly for anyone to understand, this is definitely not an ideal project for anyone with no prior sewing experience. If the sewing sections feel out of your depth, I encourage you to look for sewing patterns that are similar to use and/or modify! I do make all my own patterns, so I can't give pattern recommendations at this time. If you find a commercial pattern that works well, feel free to send me the information and I can attach it to this guide for anyone who might be looking for one.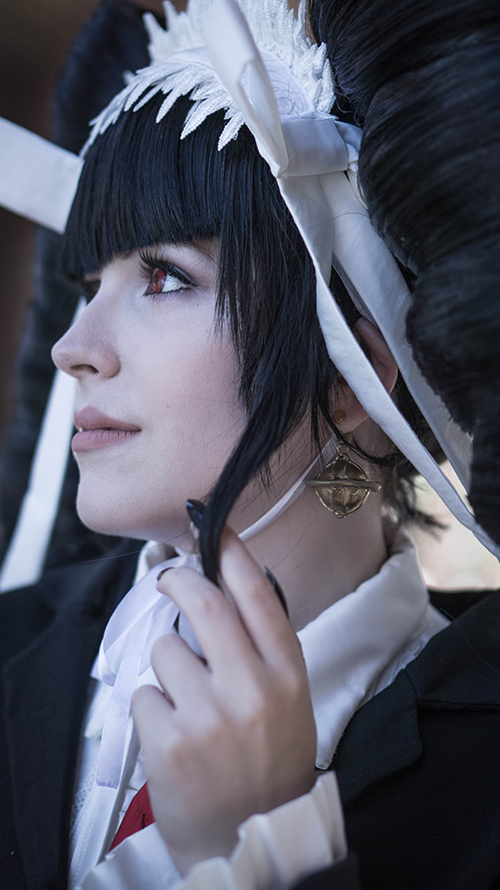 Celeste's blouse is inconsistent. In her illustration artwork, it is drawn as a solid white button down. In her in game sprites, artbook artwork, and anime design, it is a black blouse with white cuffs, trim, placket, collar, and bib. I decided to go with the latter.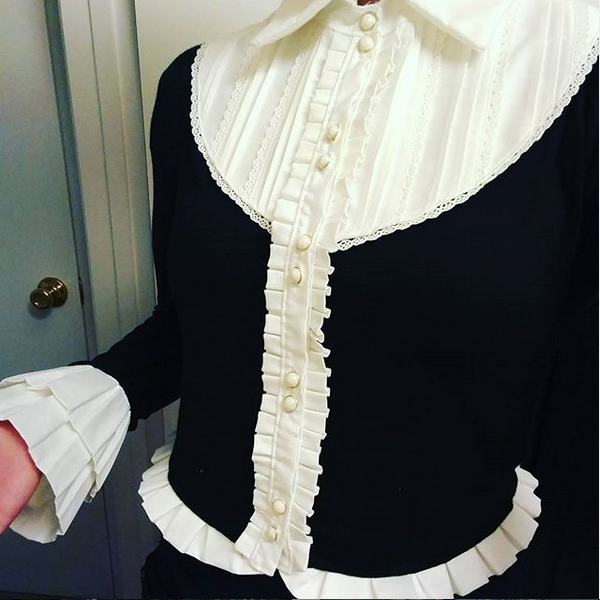 I started with the bib. First I took some scrap fabric and draped it on my dress form to draw out the shape I wanted. If you don't have a dress form, you can do this on your own chest. You also might want to add a back section to the bib, but you could make the back solid black if you wanted to.
Once the general shape is figured out, if you just want it to be plain you are done. I wanted mine to be a bit fancier, so I added knife pleats into it. To do this, you need to cut the pattern along the line of the pleat and add enough space in the middle for both the upper and under sides of the pleat. So, if you want 1/2 inch pleats, you will need to add 1 inch in each place you want a pleat. Once all the space is added, retrace your pattern onto a new piece of paper, and use that to cut out your final piece. Make sure to add seam allowances. You do not need to add enough of an allowance to make the middle placket (the rectangle on the front where the buttons go) as it will be a sew on placket, but you will need enough allowance to attach the placket to.
With the final piece cut out, pin down all the pleats and press them with an iron. I stitched each pleat along the fold as well to keep it very neat, and stitched lace trim under every third pleat. If you do stitch them, iron them again at the end. Attach the front and back pieces of the bib at the shoulder after the front section is finished.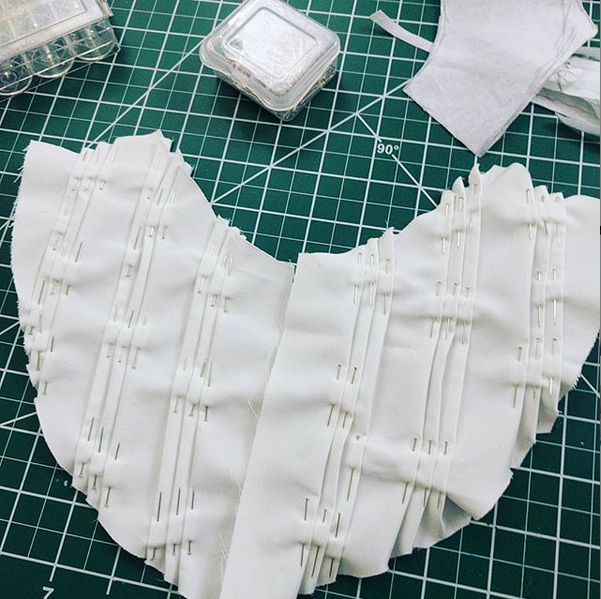 Now, it is time for the black part of the blouse. I took a basic black jersey knit and draped it around my dress form to get the basic shirt shape. With knit fabrics that have a fair amount of stretch to them, the stretch makes it fairly forgiving so you don't have to make a pattern beforehand. But, I will definitely recommend making a mock-up first if you are in doubt!
Go around the edges of the shirt fabric and cut off the excess. Leave enough for seam allowances. If in doubt, make it longer rather than shorter. You can always cut the fabric shorter later, but you won't be able to add the fabric back.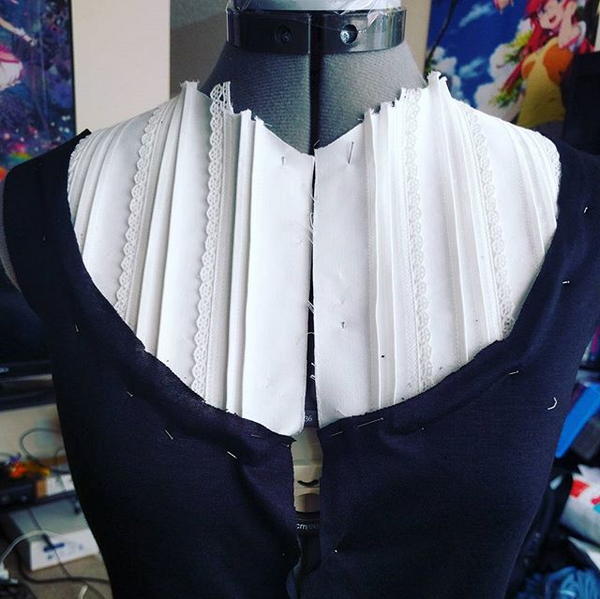 Now the bib is attached to the rest of the blouse. I found it easiest to fold and press the edges of the bib under and top stitched it down to the knit. I also sandwiched some lace trim between the layers to make it look fancy. I then finished the edges with an overlock stitch on my serger, but this isn't necessary if you do not own a serger. If your fabric is prone to fraying, you can try a zig zag stitch, fray check, or even an overcast stitch by hand.
I also started making the placket at this point. To make a placket, you can cut out a rectangle that is as long as the front of the shirt, and twice as wide as you would like the final placket to be. Don't forget to add enough fabric for seam allowances! Make two of these rectangles, one for each side of the shirt. You will not want to attach the placket just yet, but preparing it at this point will make it easier to size the ruffles/pleats that go under it.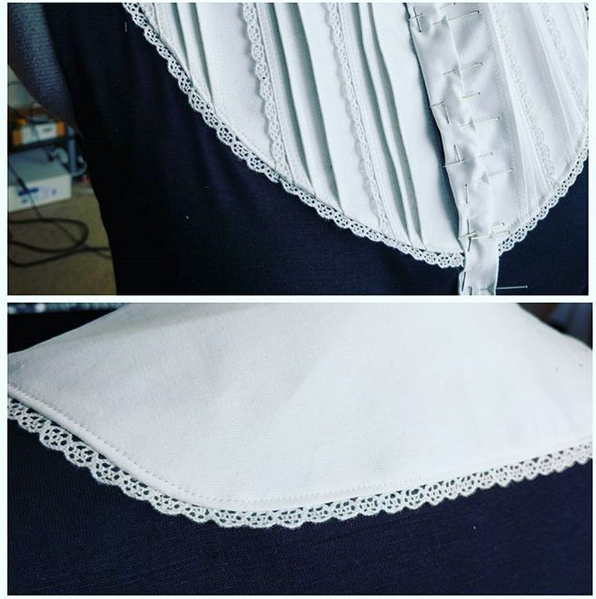 Making the Ruffles/Pleats
At this point you will need to decide if you want to go with pleats or gathers for the blouse. Based off the artwork, it looks more like pleats to me, and pleats will have a much more polished look to them than gathers. However, gathers will take less time, and if you use a fabric that isn't very stiff, it might not hold pleats very well. I chose to go with box pleats. Whichever you choose, you will probably want to keep it consistent across the entire blouse.
Again for the pleats, you will need to calculate out just how long to make the strip of fabric. Measure around the base of the blouse to get your starting length. You will then need to add in fabric for the undersides and back of each pleat. A simple way to do this is just triple the length of the fabric. This will give enough fabric for the folds on each side of the pleat to meet on the underside. So for example, a 1 inch pleat will have 1/2″ folds behind it, and a 1″ back between it and the next pleat. You can play around with a test strip to decide how you want the pleats to look.
Once you have your final length for the gathered/pleated strip, I recommend doubling the width of the final strip (seam allowances included!) and pressing the edge. This way you don't have to finish the outer edge of your gathered/pleated strip. Then sew it to the bottom of the blouse. I also curved in the inner edges of the strip rather than making a sharp corner, but this is up to personal taste. I recommend extending the strip out to where the placket will go so that it will overlap the other side rather than just leaving a gap.
This will depend on your fabric, but I found that my pleated trim didn't want to sit properly. To fix this problem, sew the seam allowance to the black knit section of the blouse. This is a process called understitching.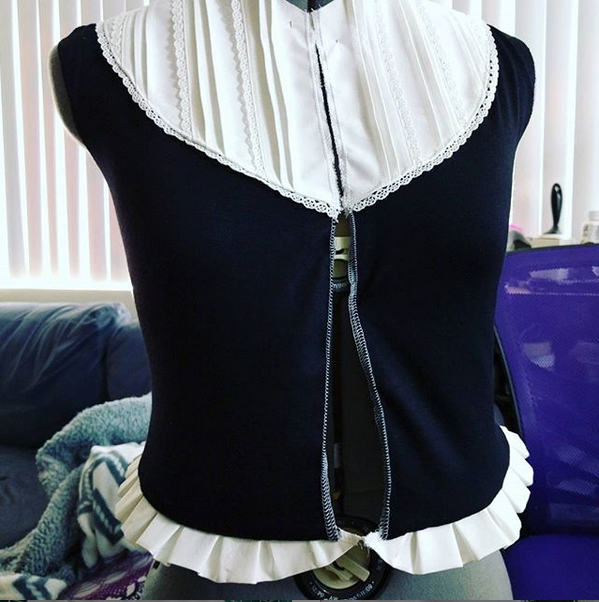 Now repeat the last section but on the sides of where the placket will go. I made smaller pleats for this section. It's okay if this section is too long, simply put the excess up at the collar. You can remove it when the collar is added, and the stitches from the collar will finish the edges for you. Note that on this part you will lay the trim on top of the fabric rather than sewing it right sides together.
There will be a LOT of layers, so I encourage you to work slowly and make sure to use an appropriate, larger sewing needle. Attach one layer at a time to keep everything properly tacked down. My machines struggled at some points on the white sections of this blouse purely because of the amounts of layers they had to work through.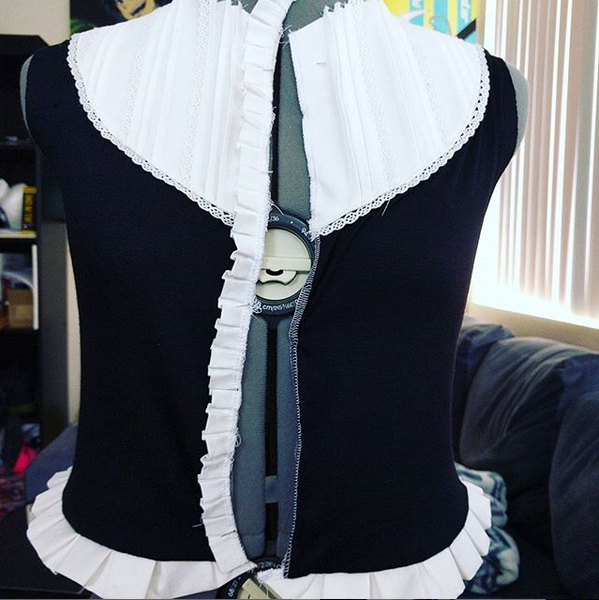 Next I attached the placket. If it was made in the same way, a folded over rectangle, you will sew down the three edges that aren't the fold. Make sure to catch the edge of the blouse in the long edge well enough. Also make sure the underside and the upper layer of the placket are properly lined up throughout so you will catch both as you sew. It will help to line the second strip up with the first as you attach it to make sure both sides match.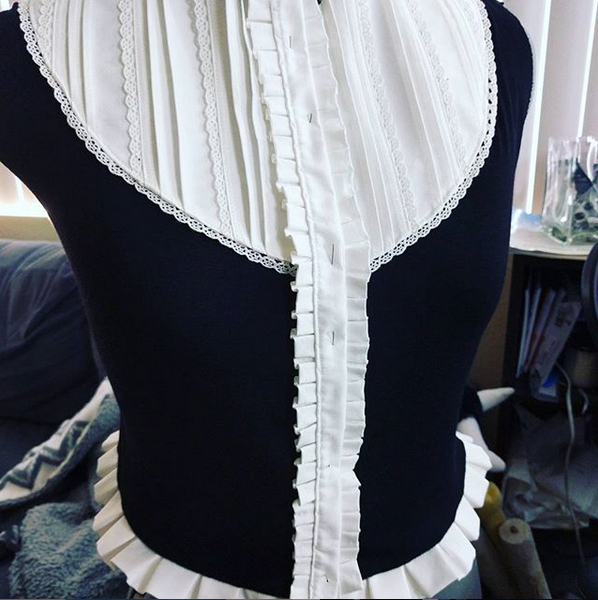 Now the collar can be attached. I used a typical collar with a collar stand. The collar stand is the somewhat rectangular strip of fabric that goes between the shirt and the collar, and is what the top button is placed in. When attaching the two pieces of the stand, again make sure that everything is positioned properly with the upper and lower layers being even so that you catch all layers while sewing.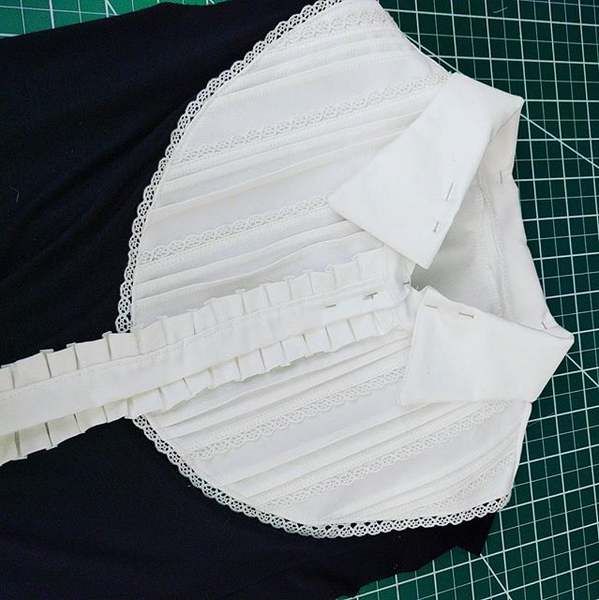 For the sleeve, I pinned the fabric around my arm, removed it, and stitched a line for the underside. Since stretch knit is so forgiving, you can make knit sleeves this way pretty easily, no pattern needed. I have done it for many cosplay sleeves, and boots/socks as well. Once the sleeve is sewn up, it will be sewn around the arm hole. Again, since it's forgiving, a simple oval will work. There's no need to have a perfect arm hole unless you are using a fabric with no stretch.
The cuffs are again done in the same box pleats as the other pleats on the shirt. This time the pleats will be much longer, but the strip of pleats will be shorter. For the cuffs, there are two tiers. I made each tier as a separate piece. Once each tier is pleated, they are attached at the end of the sleeve. My machine struggled a lot here and I broke several needles just due to the sheer amount of fabric I was sewing through. I would recommend trying to stagger where the cuffs attach to the sleeve to help try and limit how much fabric you need to sew through.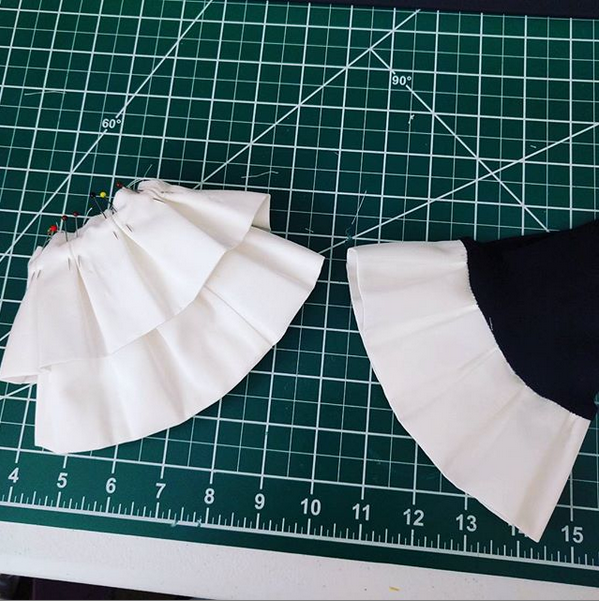 After the cuffs, all that is left are the buttons. Celeste's blouse buttons are only shown in one image, her illustration image. The buttons are done at regular intervals in groups of two. Mark where the buttonholes should go. Most sewing machines have an automatic buttonhole foot that you can use, so just follow the instructions and do that. If you can't use a machine for a buttonhole, hand worked buttonholes are an option, and frankly can look a lot nicer than machine buttonholes, but they are tedious. Once the buttonholes are completed, pin the two fronts together and mark through the buttonhole where the button should be sewn. Then, attach the buttons. I used pearl and gold shank buttons to have a more elegant look.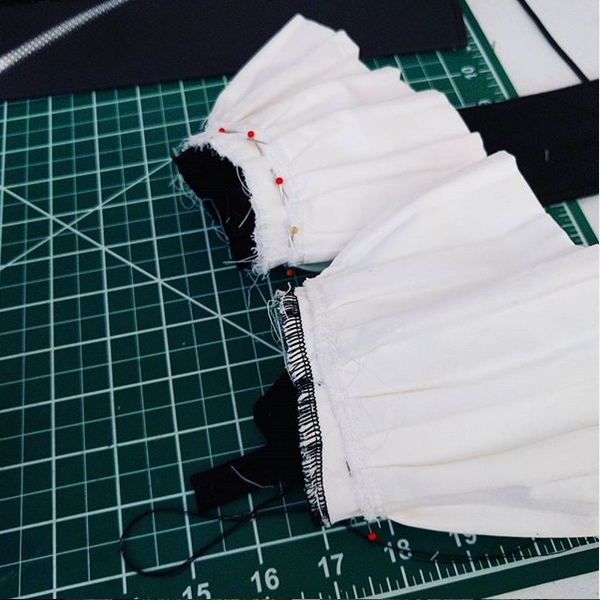 Celeste has a very large skirt with a lot of volume. A hoop skirt could be used, but traditionally petticoats are more prevalent in EGL fashion. So, to make a petticoat strong enough to hold up a skirt like this, a lot of a strong fabric needs to be used.
A note: I don't ever recommend using tulle for a petticoat being used to provide volume underneath a skirt (instead of say, to smooth out visible hoops, an overlay, or tutu skirt, all situations where tulle is fine). Tulle has a tendency to pack into itself over time and will deflate fairly quickly. If you're making a petticoat yourself, it takes quite a bit of time, so you want to get the longest lifespan possible out of it. For my petticoats I like to use organza and if needed a heavier nylon netting. Depending on your organza and netting, you might find the netting unnecessary. For the first three petticoats I made, the organza wasn't stiff enough to hold up well, so there is a layer of netting between two layers of organza. However, the organza I used for the Celeste petticoat was stiff enough that I found the netting layer to be unnecessary, and would probably make it out of just organza if I was doing it again. I would recommend keeping any netting between layers of organza as netting can be scratchy.
For my skirt I made an A-line petticoat and you may be wondering why you would use an A-line petticoat for a bell shaped skirt. In my experience, using an A-line petticoat will not matter as much as the shape of the skirt/dress going over it for the final silhouette that you will get. This is one of the cases where gravity is your friend and will squish down the edges of the petticoat. However, it is probably best to use a bell shaped petticoat, so I would recommend that over the way I did mine. If you'd like to use a bell shaped petticoat you can, simply make it into two tiers with a shorter one at the top and a longer one below. This is specifically with respect to a tiered skirt like Celeste's so your mileage may vary with other skirts and purchased petticoats. Since I did make my petticoat this way though, the information included below will be for an A-line petticoat. This is how I made my outfit, not necessarily the best way to do it, so change things as you see fit!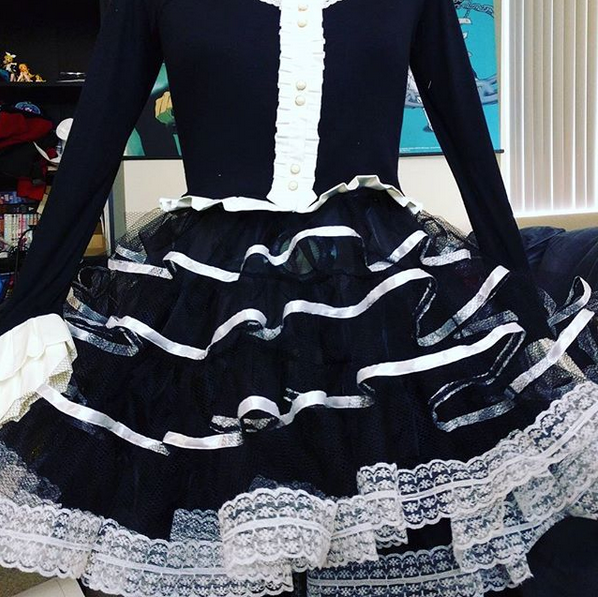 Pictured is the petticoat with just the lower organza and middle netting layer. The top organza layer is missing from this photo.
The first part of planning out a petticoat is math. You will need to know your waist measurement and the length you would like the final petticoat to be. Also plan out if you would like to add a lace trim and how wide you want the waistband to be. For waistbands, I like to use 1″ wide (2.54 cm) heavy duty elastic.
First: The tiers
Decide how many tiers you would like. I usually use four, but you can use however many you want. Note that if you're doing a shorter petticoat, the more tiers you add, the more you might struggle with bulky fabric up close to your sewing machine.
Take your length measurement, subtract the waistband and lace trim measurements from that, and divide it into how many tiers you would like. Add a small amount to account for seam allowance, maybe 1/2″ (~1.25 cm), and that will be the height of your strips.
Then: The strip length
To keep it easy, you can just work with 2 yard strips (1.8 m), especially if your hip measurement is around a yard (36″, 0.9 m). If you're used to using meters, you could also use 2 meters to make it easy. A general rule is 2x your hip measurement, but it's not strict at all and depends on how big of a petticoat you want. For a larger petticoat, make the strips longer, and for a smaller petticoat, make the strips shorter. You won't notice much of a difference if you're off by a few inches though.
Finally: The tiers' circumference
This part is pretty straight forward. Each tier's circumference is just double the length of the previous one. Tier one (the top one) is one strip. Tier two is two strips. Tier three is four strips. Tier four is eight strips. If you're using 2 yard (1.8 m) strips, that gives you a full 16 yards (14.6 m) of length around the base of each layer.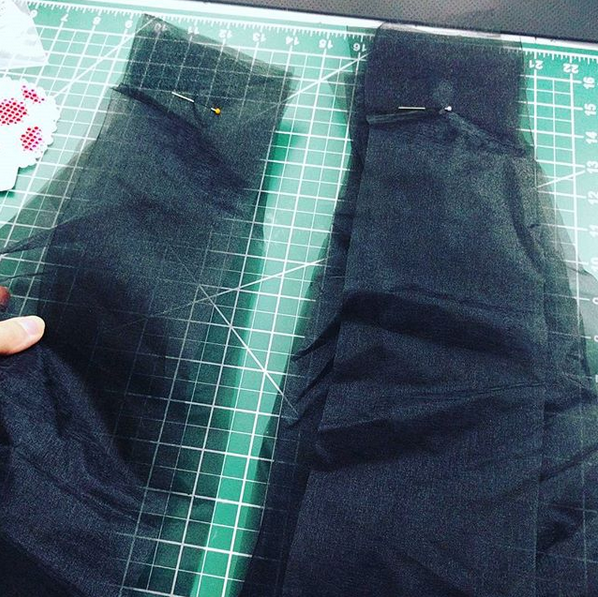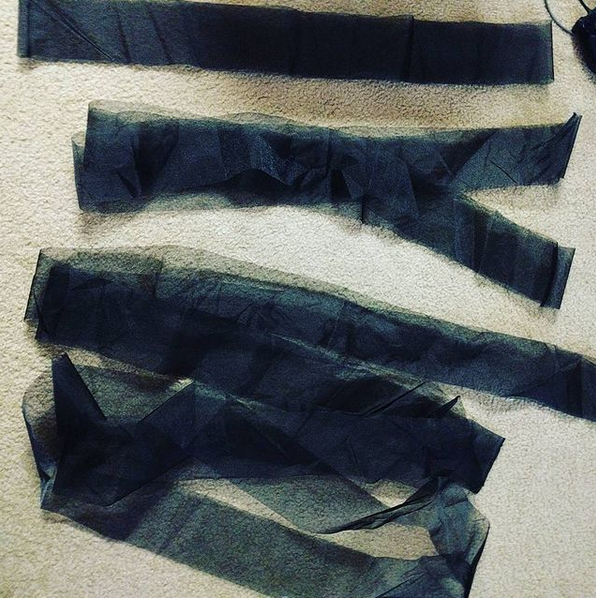 First, the strips are sewn together to make a loop for each tier. The previous math will tell you how many strips for each tier. Mine were 1, 2, 4, and 8 strips for each tier.
Take the bottom loop (the largest one) and finish the bottom as you like, with lace or hemming. Then start attaching the loops together from bottom to top. I find it easiest to align the seams and then gather everything together from there. If you're planning to put ribbon on the seams, just simply lay the two pieces next to each other. If not, you may wish to lay them on top of each other to keep the seam on the underside.
Repeat until all tiers are attached together. Once this is done, you can go back and add ribbons over each seam, or leave it as is.
Finally, the petticoat will need a waistband added. I like to make a slip topped with an elastic waistband so it can be pulled on easily. Any fabric can be used, just pick something that will be comfortable like a knit fabric. Sew all layers you make onto the slip just under the waistband, and top with a ribbon if preferred. You can also sew it into the waistband, I just find this easiest.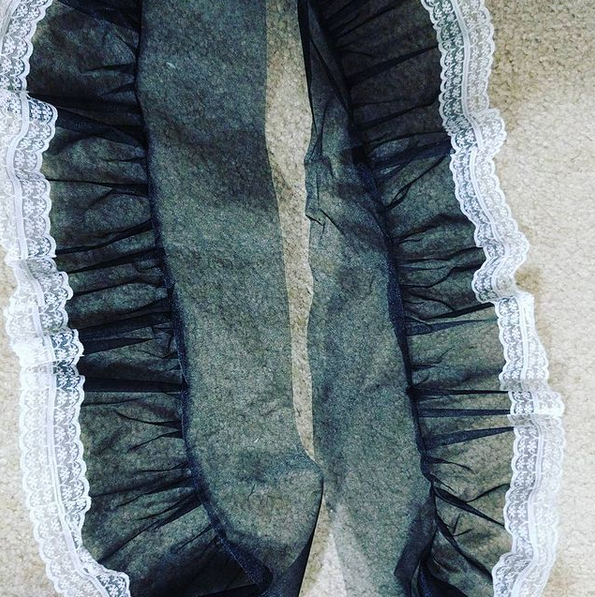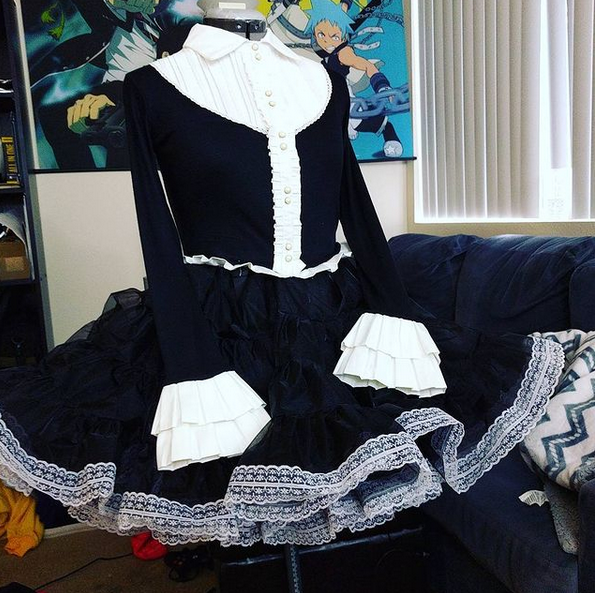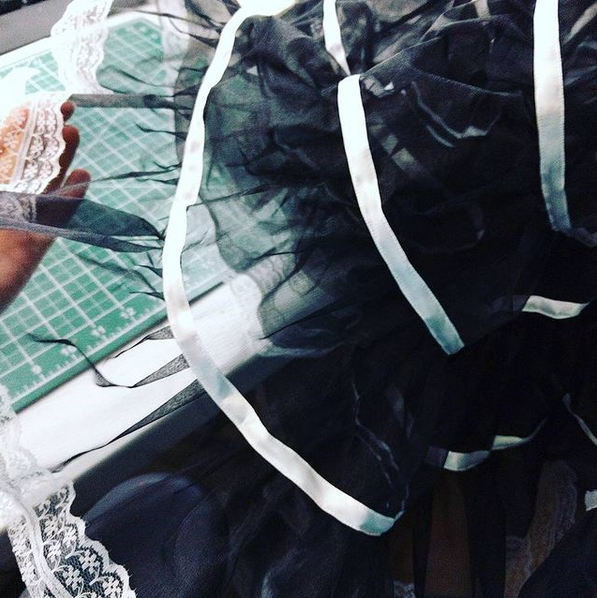 This part of the project is so involved and took so long it has its own separate write up and video tutorial that can be found here:
The skirt is a relatively simple part of the cosplay. It has some odd layering going on, but at its base it's just a gathered rectangle attached to more gathered rectangles.
First, you'll want to calculate out the sizing. Take the waistband measurement and multiply it by whatever amount of gathering you would like. Then the second tier will be that measurement multiplied again by whatever amount of gathering you want to add. For the second tier, I did two layers, one shorter and one longer. This way I could attach everything together in once seam rather than adding more. My strips of fabric for the lower tier were almost 11 feet (~3.4 m) long, but I do not remember how exactly I got to that measurement.
Once the strips of fabric are cut out, lace is attached to the bottom of the two lower tiers. I also recommend edgestitching along the lace (topstitching that keeps the seam allowance in place, which will keep the lace laying nicely). Then both the lower tiers are gathered and attached to the upper tier. Then comes the side parts.
For the side parts of the skirt, I just cut out some muslin and pinned it on the rest of the skirt over the petticoat it until I thought it looked nice, then transferred this to the final fabric. It created an oval shape with some extra fabric in the middle for gathering.
On this part the lace in the reference designs is very odd, and I couldn't find a ready made lace trim I liked enough. What I did was purchase two different lace doilies and stitch these together in an alternating fashion, then put another lace trim over the top and stitched all this to the edges of the side pieces, creating my own lace trim.
Once everything is done, all of it can be gathered and sewn to a waist band, a zipper added in the back, and the skirt is done.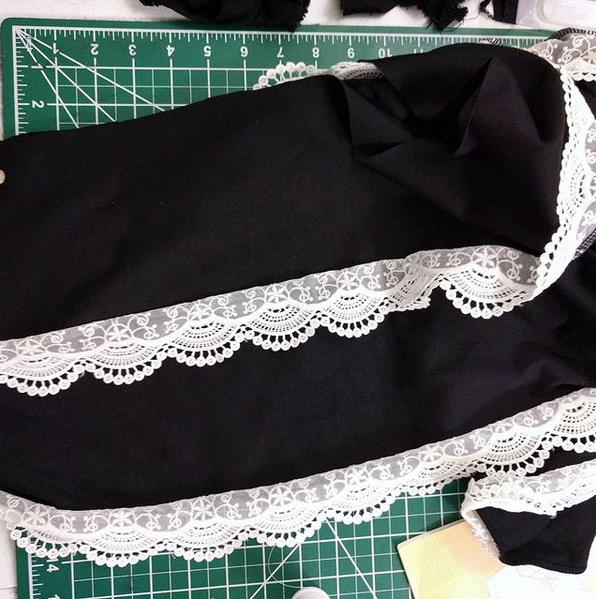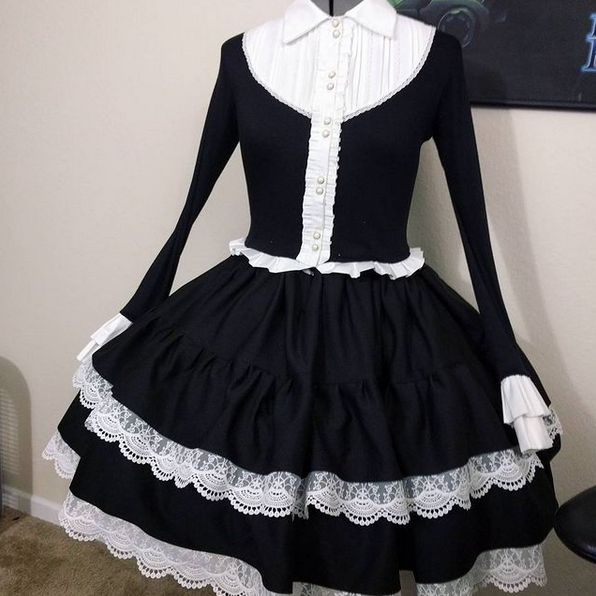 The socks are very simple. I took a pair of thigh high black socks I liked, gathered and sewed the same lace from the bottom of the skirt on, sewed some eyelet lace designed for a ribbon on top of this, and added a ribbon to finish it off.
Shoes were purchased on Taobao (requires shopping service). Similar ones can be found by searching "Celestia Ludenberg shoes."
The simplest way to make Celeste's tie would be to get any red tie and transfer the design over, whether from fabric paint or heat transfer vinyl. For my tie I made a silk tie with a machine embroidered pattern.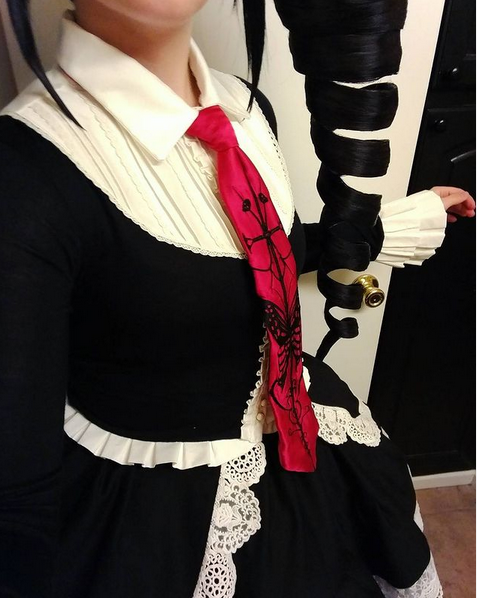 To start with, I digitized my embroidery patterns using the art book references. This was done in three pieces due to hoop size limitations. My interpretation of the design can be found at the right. They would be positioned vertically with the left most section being at the top and the right most section being at the bottom.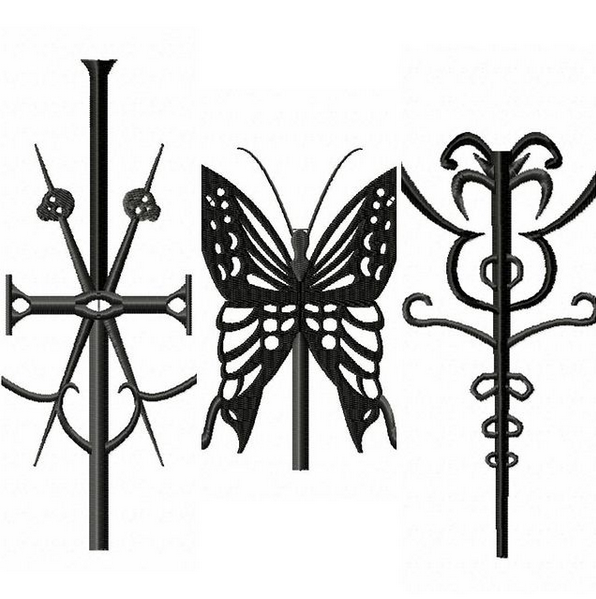 These files were then stitched out from my machine onto a strip of fabric. If you're painting the design on an already made tie, make sure to measure the length of it worn with the outfit to make sure you don't make the design too tall/short. Note that her outfit will probably be worn a bit higher with the skirt sitting at your actual waist, so you might want the tie shorter compared to how a tie would be worn with pants.
From here the tie fabric was wrapped around a base that I salvaged from an old unused tie. At this point I knew absolutely nothing about ties and didn't want to make my own tie interfacing, but you can probably make one from a dense cotton batting. Something also worth noting is to make sure the tie's tail is long enough. Mine is too short for a traditional tie knot as I didn't realize how much length is needed, so I had to find another tie knot to use for this one. This problem can be averted by making your tie longer.
The fabric is wrapped around the base and then a lining fabric is sewn on the backside at both ends. I used the same lining I purchased for the jacket. All of this was slip stitched together, then the tie fabric was slip stitched along the length of it, and the tie was done.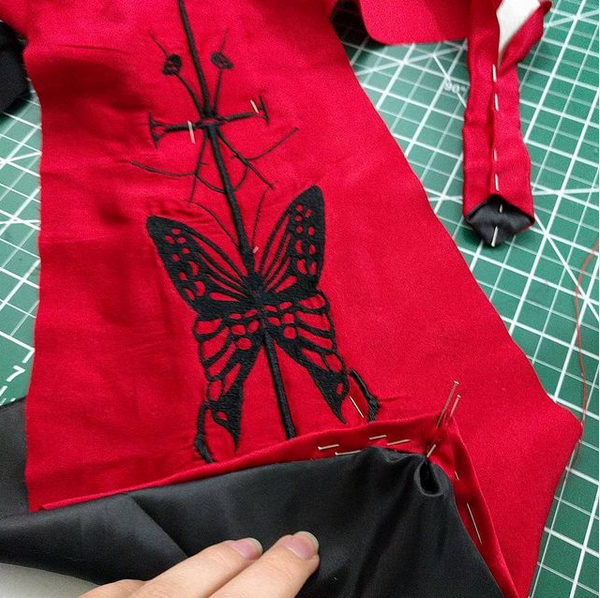 Celeste wears a variation of the old school EGL "Maxi-Pad" headdress. I took a lot of liberties with constructing this in order to maintain the look it has in game. It's worth noting the headdress has significant differences between the game and anime versions. In the game it is drawn as individual lace spikes whereas in the anime it is drawn as ruffles. Choose which version you prefer and go with that.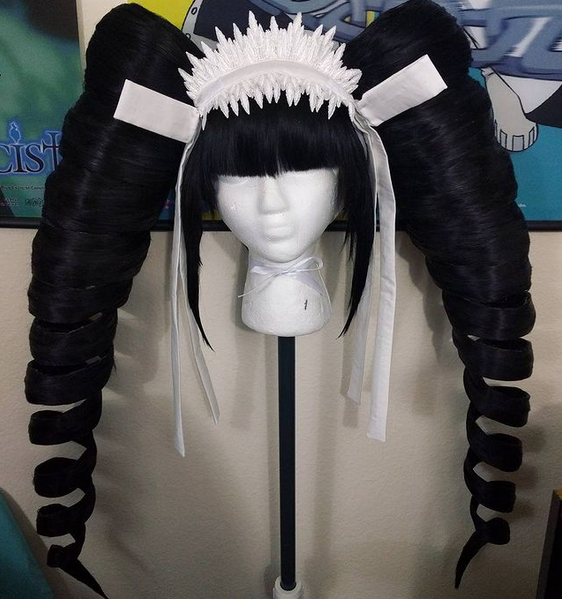 First I cut out two fabric ovals to create the base of the iconic maxi-pad shape. Doing this after your wig is important to getting the sizing right. I added two lace fabric overlays to either side of the upper oval as this is shown in the art book reference. From there I cut out some sections of lace to stack together to get the points as dense as I wanted. I'd recommend pinning it all together to make sure you like the positioning.
If you are struggling to find this style of "spiky" lace, I find it is often listed as "Venetian lace trim" so try searching for that.
I love making stuff in costumes poseable when possible, and often use wire to meet that end. For the back lace spikes, they stick up straight. However damage to the headdress could cause other methods of achieving that to eventually fail and make them lay flat. Enter aluminum wire. It's easy to bend by hand and strong enough to hold up fabric, meaning no matter how squished the headdress gets it's an easy fix.
To add the wire, I put fusible interfacing behind each lace point, and then sandwiched each wire between two of these. That way, even from the back it just looks like a normal lace point. The bottom lace pieces don't need wire or backing as they will just lay flat on the head.
For the "bows" on the side of the head, I merely made fabric strips with heavier fusible interfacing inside. Two for the strands coming off the bows, and a third to make the bow, and a smaller fourth to wrap around the bow and tie it.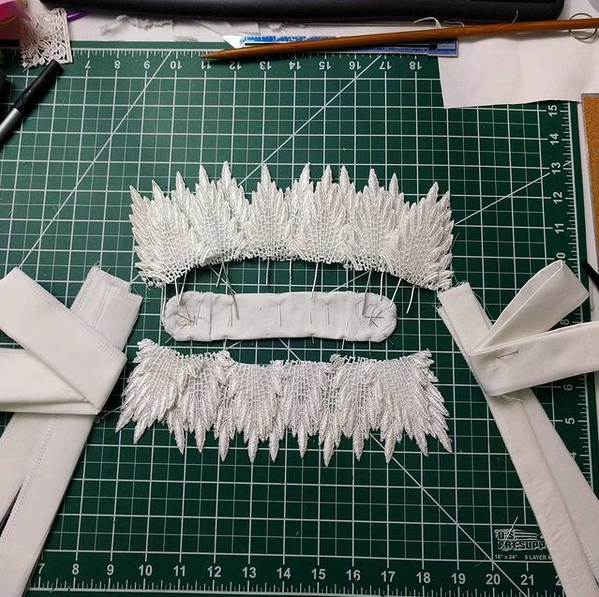 Then the final assembly is done. The bottom fabric oval is placed on the bottom, then the lace points are put on top of that, with the bow tails going out each end as well as a ribbon underneath them to be tied under the chin, and finally the upper oval on top. The side bows are left off for now. All of this is then sewn together, essentially sewing the two ovals together while sandwiching everything else between them. You can machine sew this but it is VERY important you do not use the presser foot when going over any section with wires. Walk your machine over these parts, do not use power to go over them or you can damage your machine, break needles, and even injure yourself. Hand sewing may be preferred for this.
Once the sandwich is complete, the bows can be wrapped with the faux tie in the middle. Hand sew the loop on the back, and then sew the bow to the tails coming out of each side of the headdress (don't grab the chin tie in this).
And then the headdress is done. I would recommend also adding clips to each side of the headdress to keep it attached to the wig. I used snap clips (also referred to as toupee clips) as the snapping keeps them solidly in place and they are easily sewn on. I store the wig with the headdress attached.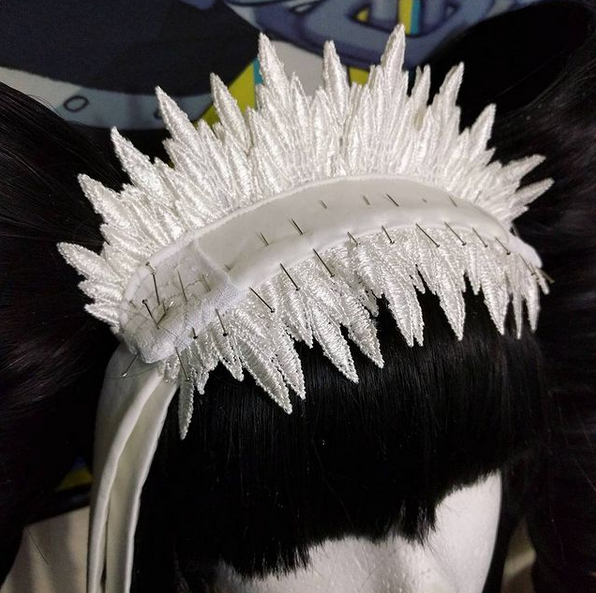 The final piece of clothing in the outfit is the jacket. It's a structured jacket with flared sleeves that ends just above the trim on the blouse. I made the jacket out of the same fabric as the skirt to make a matching set.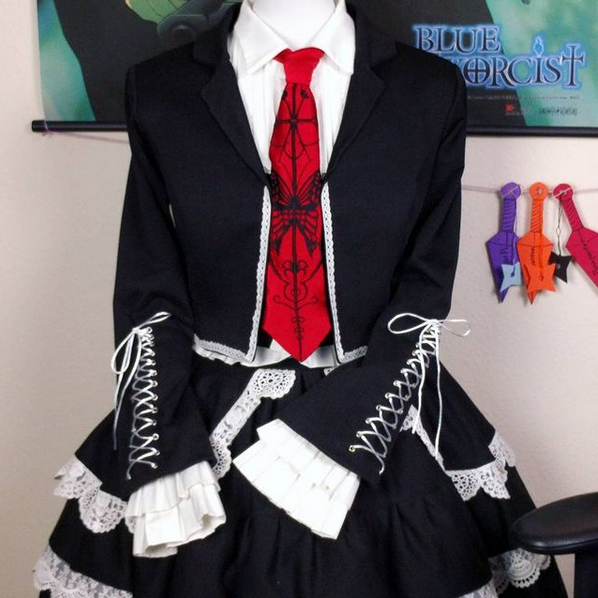 First I patterned out the jacket. I went with princess seams for the bodice as they are pretty common in EGL one piece dresses, and I felt they would fit well with her elegant style. For the sleeves, they are normal sleeves and then flare out at the elbow just enough to match the wrist cuffs on the blouse underneath.
When making outerwear intended to be worn with one specific outfit, I recommend fitting your test piece or pattern over the outfit to make sure the proportions are right. Just be sure to not do anything that might damage the outfit underneath.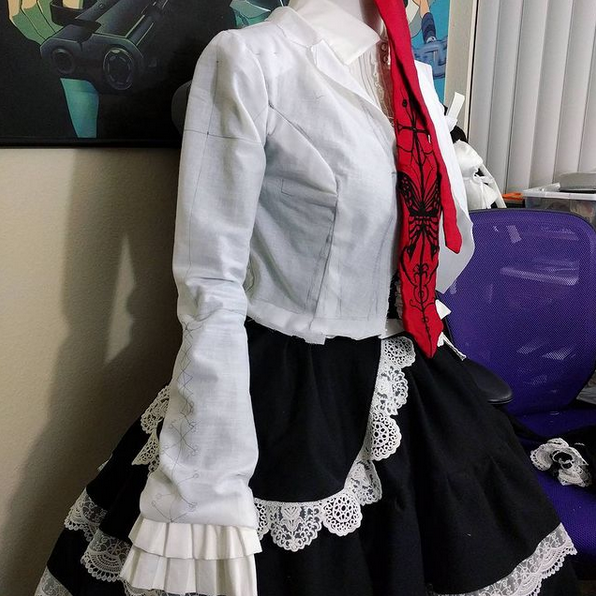 Once I had the pattern where I liked it, everything was transferred to the final fabric, and a lining was cut out as well.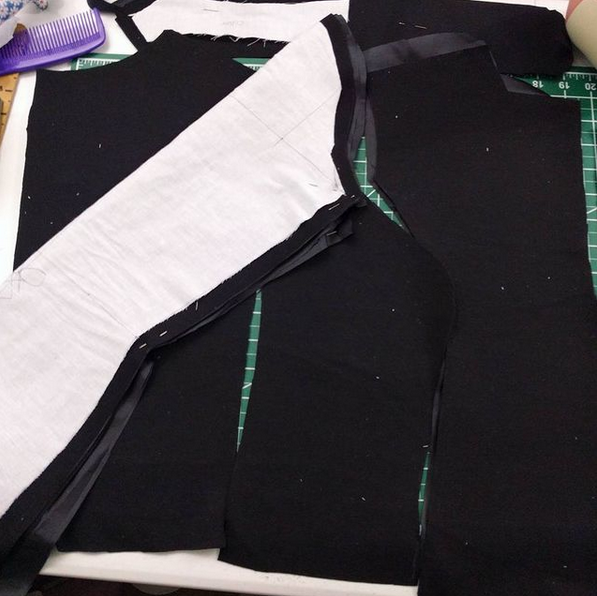 An interfacing was added to the bodice and everything was sewn together sans lining.
It's worth noting at this point I still barely understood how lapels worked, so if you aren't going off a pattern and want more information on how to build this part, I would recommend doing further research and not relying on how I built mine.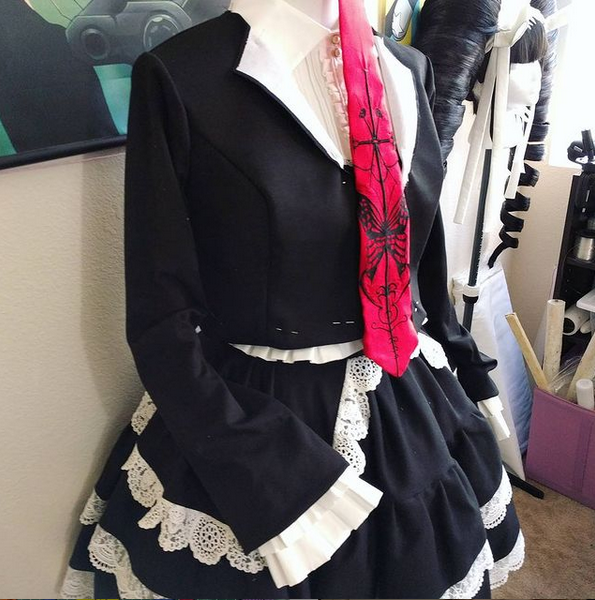 For the sleeves, the lacing gets wider and more spread out as it gets closer to the wrists. In the official art there are thirteen pairs of eyelets on each sleeve, so I used this to calculate out the positioning and marked the spots with chalk. Definitely mark the positioning before placing any eyelets to not accidentally put them in a bad spot where you can't put as many as you like.
I find using a hammer for small eyelets very awful, so I picked up an eyelet tool for this. They are fairly inexpensive, so do consider it if you use them frequently or also mess them up with a hammer.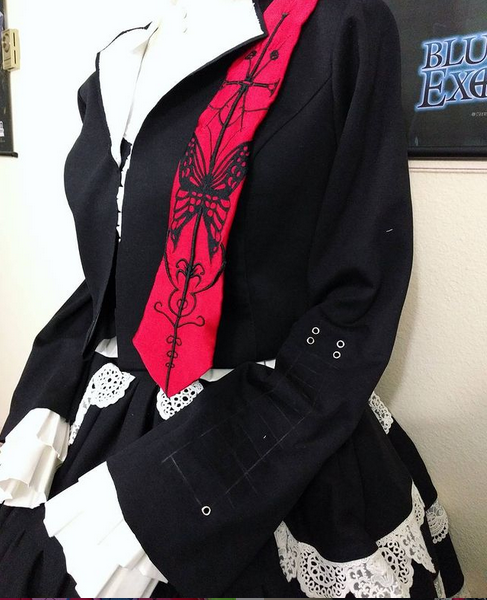 Once all the holes are placed, the lacing can be tied up. I like the look of cording rather than ribbon for this as it gives the consistent sizing and roundness shown in the artwork, but you can use whatever you like.
It's important to do this before the lining if you plan to line your jacket, so that the cord will be sandwiched between the outer layer and lining and the eyelets won't catch the lining.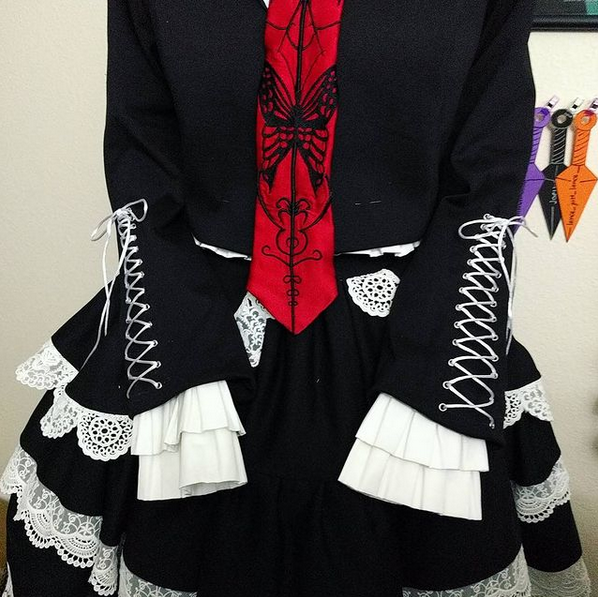 Once the laces are in place it's time to line the jacket. It's worth noting you don't have to line a jacket, but I highly recommend doing it for several reasons. First, it makes the jacket a lot more comfortable to wear with something blocking the seams. Linings also give the inside of a jacket that nice slipperiness that makes them easy to take off and put on, which will help a lot with the big ruffled cuffs of the blouse worn underneath. You can also add hidden pockets which are always a big plus for cosplays. Finally for this jacket in particular, lining it will keep your sleeve lacings a lot safer rather than constantly tugging on them when you're putting the jacket on or off.
I also highly recommend adding shoulder pads to her jacket, and any Danganronpa character that wears a jacket (with the exception of characters like Aoi and Hifumi). They have a characteristic point to their shoulders that translates perfectly into a small shoulderpad. I know many people think exclusively giant '80s shoulderpads when they hear the word, but you can purchase shoulderpads around a quarter of an inch in thickness (~6 mm) that I find excellent for Danganronpa characters. In fact I used the same shoulder pads for Celeste's jacket as Byakuya and Nagito's jackets. Adding shoulder pads is another reason to line the jacket, to hide and protect them.
For this jacket, I used the bagging method, but these days I no longer line jackets in these ways. There are many excellent tutorials out there with variations for how to bag a jacket lining. I'd recommend searching around for a method that you like and understand.
Finally to keep the jacket in place, I added a gold chain and clasp that sits behind the tie and holds the two sides of the front together.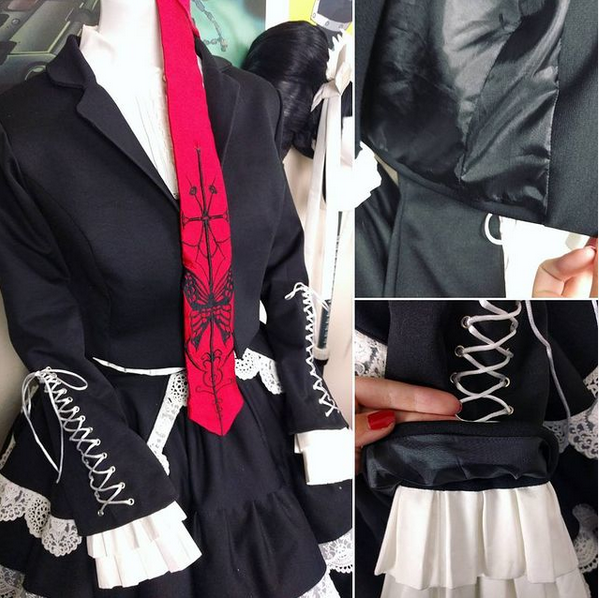 For Celeste's ring, you can find similar jointed rings for sale, but I thought it would be fun to try and make a jointed ring out of thermoplastic since I don't get to work with it as much as I'd like. This ring was made using Worbla's Black Art, but they now have Worbla's Pearly Art which would probably be even better.
First I made paper patterns wrapped around my finger, then transferred them to worbla, heated it up and shaped it into a ring shape. I recommend against molding this on your actual finger because you will likely burn yourself, and you want a ring like this to have space for the rivets to fit next to your finger. Use something like a marker instead.
For testing the joints, I put a bit of wire through them and adjusted until I got it to a point I was happy with.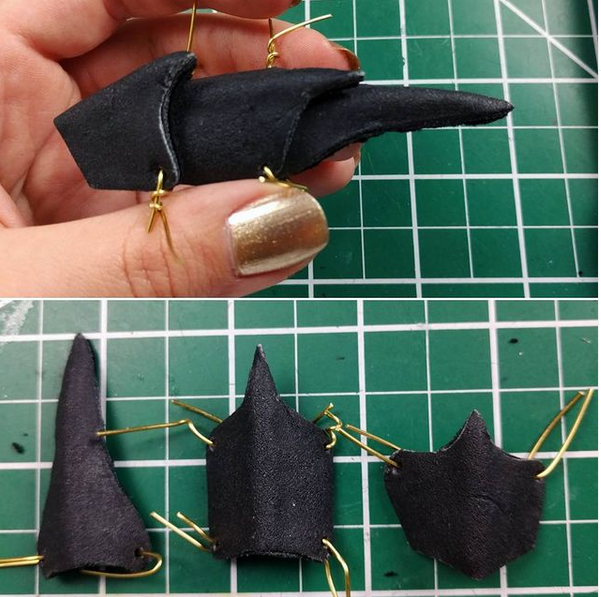 Once I was happy with it, I added the smallest rivets I could find into the holes I made before. This successfully made the ring bend, although maybe not as much as I wanted. For my first time making any sort of jointed thing, I think it was pretty good. With more time spent on adjusting the pattern I'm sure it could be even better.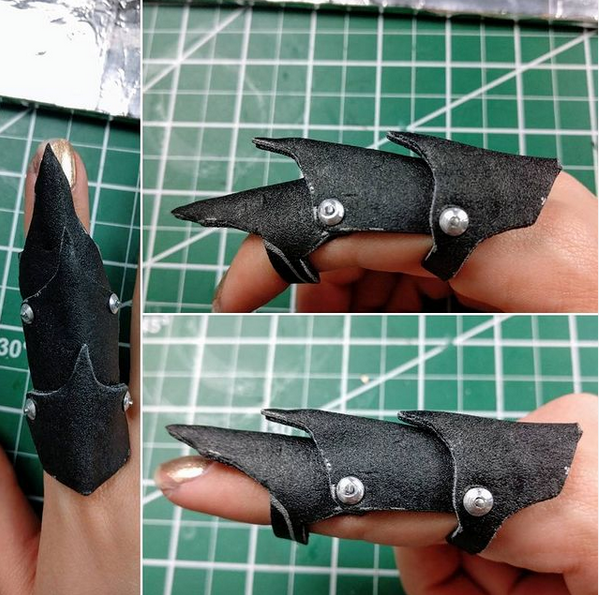 Then the ring was smoothed out using the methods listed on Worbla's site. With the newer thermoplastics readily available now, you probably wouldn't even need to smooth it. It was then spray painted silver.
The final part of the cosplay that I made was also the least visible part: the earrings. For these I sculpted them out of plasticine, created a silicon mold, and cast them out of resin. Back when this cosplay was made, 3D printers were still a very high end item that the vast majority of cosplayers didn't have access to. Now with how common they are, and due to the presence of annoying to sculpt shapes like perfect spheres and rings, it would certainly be better to go with a 3D print. But, this was also a case where it was a method I didn't get to work with very much and I thought it would be fun, so sculpt and mold were what I did.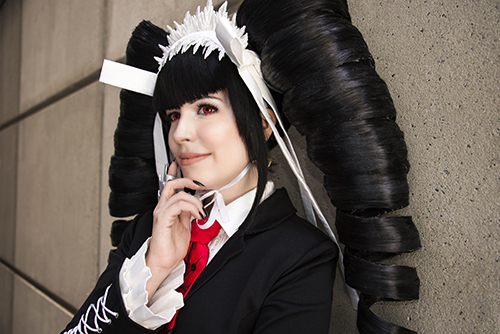 To avoid doing a two part mold, I split the earrings in half and sculpted two domes with the raised bands and "gems" in them.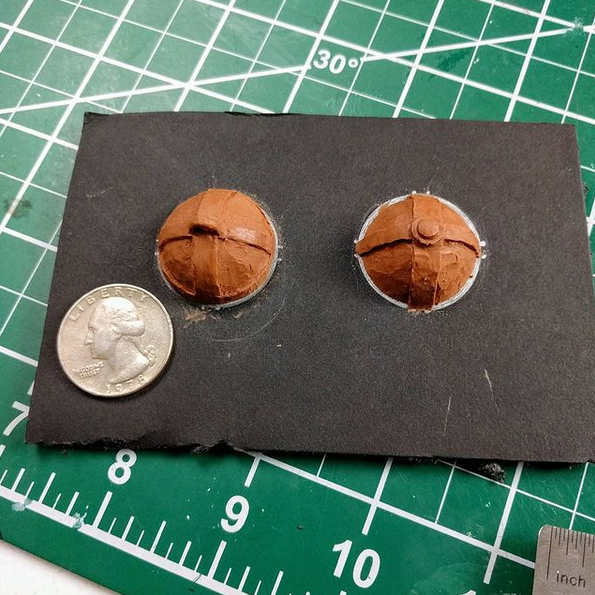 I then added the ring on the outside and all the extra bits I would need to assemble my earrings. Around them I built a box to pour the mold in, and poured my mold.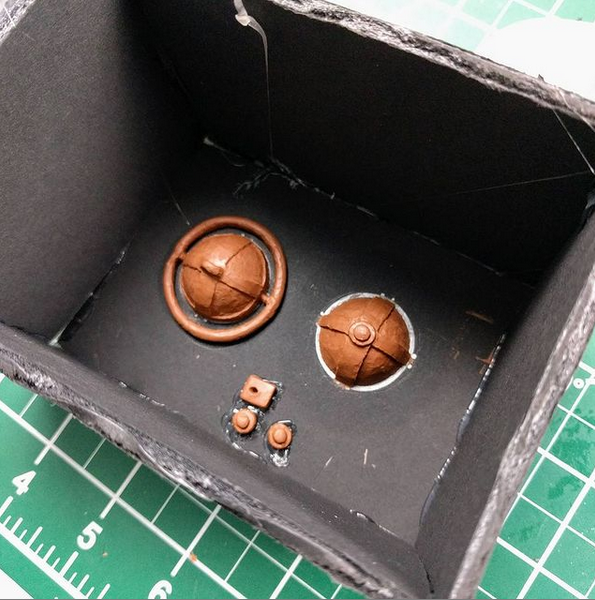 The earrings were cast out of fast curing liquid plastic, sanded, and added together. As much as I tried to get the sculpts smooth, I had limited success, but sanding helped with the final pieces. Thanks to these earrings being made out of resin instead of something like clay, they are incredibly lightweight.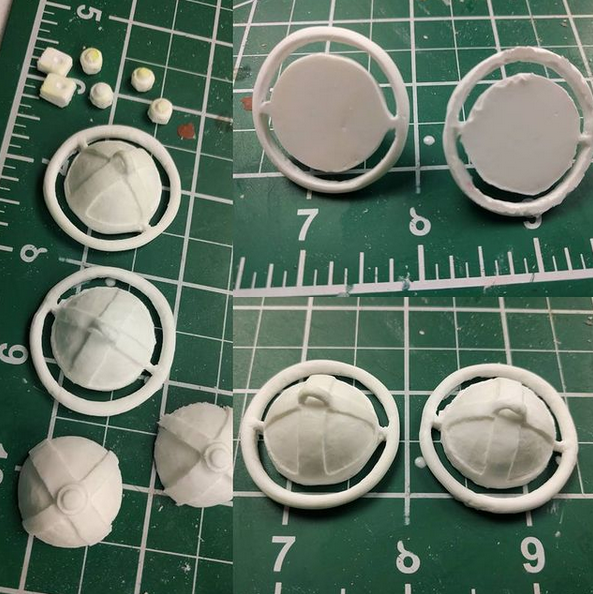 The two halves were attached with E6000, a great glue for resin pieces, and then they were attached to a pair of studs with JB Weld that works well on metal and resin. I find E6000 doesn't work all that well with metal, so I resort to stronger glues when metal is involved.
The gold parts were then covered and the earrings primed and spray painted gold. After many wears and years they have held up well and not broken at all.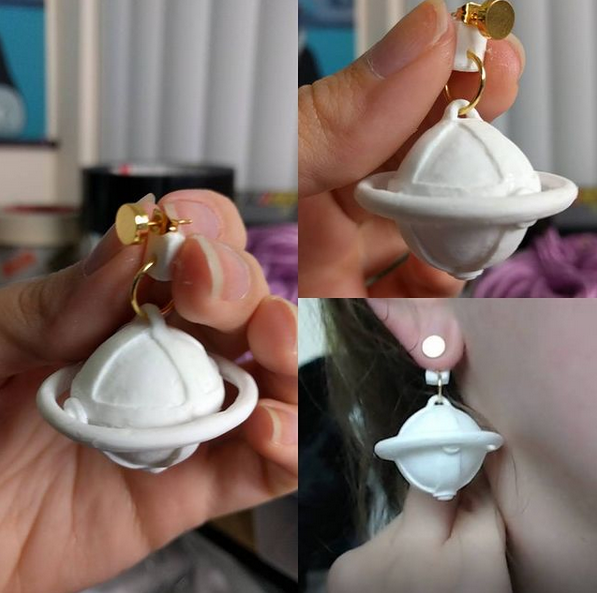 And there you have it, the full Celestia Ludenberg Outfit Making Of Guide! This guide was finished about 4 years after the cosplay was made, so the amount of images I had still accessible was limited, but I hope this will help anyone looking to cosplay Celeste or any similar characters.