Welcome to the Celestia Ludenberg outfit making of guide! Back when I first started my Celestia Ludenberg cosplay I wasn't yet saving stream footage as I had no intention to do anything with it once I was done. When I started the wig, I realized this might be a project I want to be able to make into a tutorial later, so I started saving the footage then. Fortunately that enabled me to make the wig tutorial! Unfortunately that means I am missing a decent amount of footage for the beginning of the cosplay. Because of this, I am calling this a making of guide rather than a tutorial. I will try to explain everything as best I can with the content I have (and maybe make some graphics along the way), but there will not be a video tutorial for all of the outfit.
This guide is written exactly how I made my outfit. Note that many parts of this will require significant sewing experience. While I will do my best to explain things clearly for anyone to understand, this is definitely not an ideal project for anyone with no prior sewing experience. If the sewing sections feel out of your depth, I encourage you to look for sewing patterns that are similar to use and/or modify! I do make all my own patterns, so I can't give pattern recommendations at this time. If you find a commercial pattern that works well, feel free to send me the information and I can attach it to this guide for anyone who might be looking for one.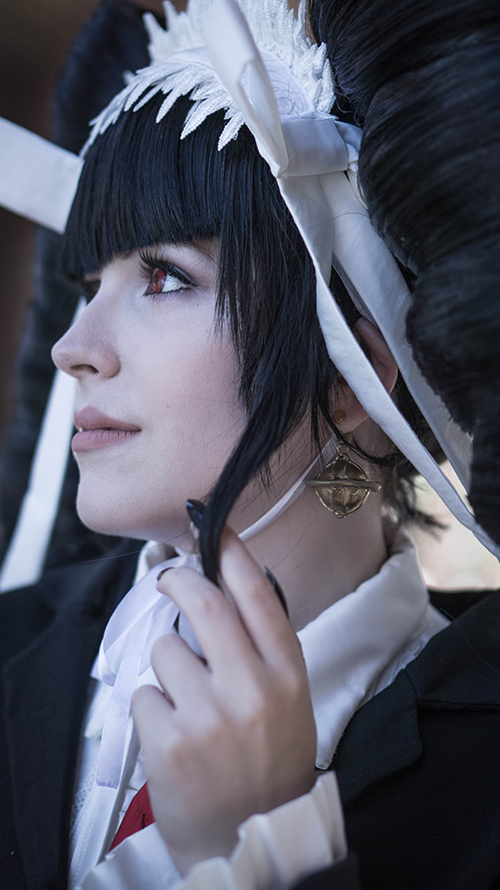 Celeste's blouse is inconsistent. In her illustration artwork, it is drawn as a solid white button down. In her in game sprites, artbook artwork, and anime design, it is a black blouse with white cuffs, trim, placket, collar, and bib. I decided to go with the latter.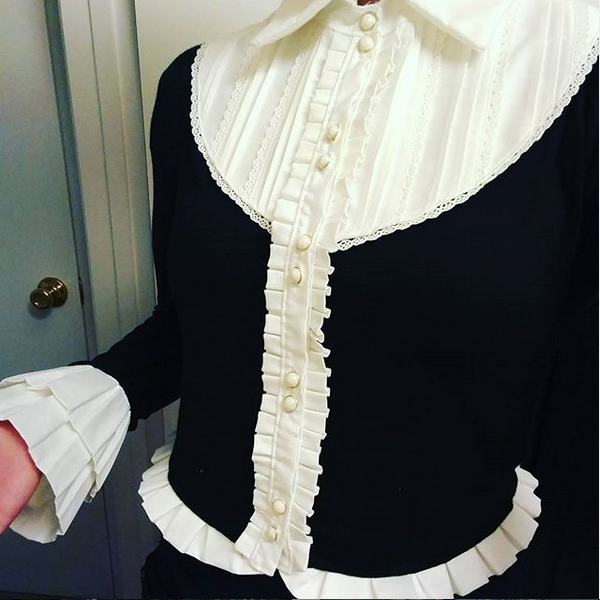 I started with the bib. First I took some scrap fabric and draped it on my dress form to draw out the shape I wanted. If you don't have a dress form, you can do this on your own chest. You also might want to add a back section to the bib, but you could make the back solid black if you wanted to.
Once the general shape is figured out, if you just want it to be plain you are done. I wanted mine to be a bit fancier, so I added knife pleats into it. To do this, you need to cut the pattern along the line of the pleat and add enough space in the middle for both the upper and under sides of the pleat. So, if you want 1/2 inch pleats, you will need to add 1 inch in each place you want a pleat. Once all the space is added, retrace your pattern onto a new piece of paper, and use that to cut out your final piece. Make sure to add seam allowances. You do not need to add enough of an allowance to make the middle placket (the rectangle on the front where the buttons go) as it will be a sew on placket, but you will need enough allowance to attach the placket to.
With the final piece cut out, pin down all the pleats and press them with an iron. I stitched each pleat along the fold as well to keep it very neat, and stitched lace trim under every third pleat. If you do stitch them, iron them again at the end. Attach the front and back pieces of the bib at the shoulder after the front section is finished.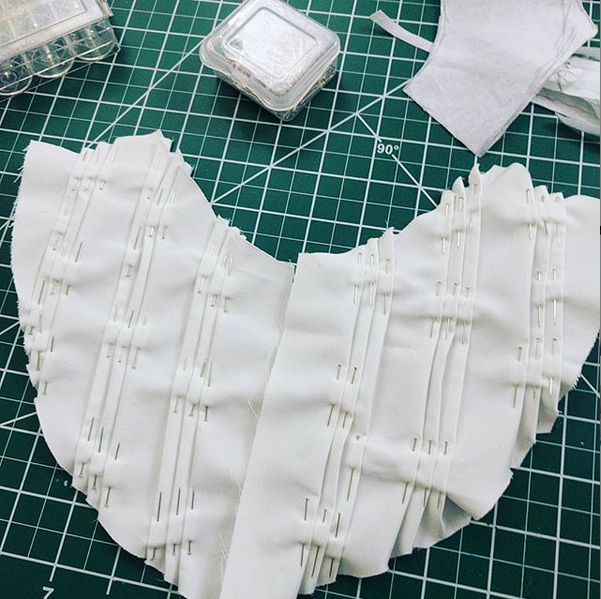 Now, it is time for the black part of the blouse. I took a basic black jersey knit and draped it around my dress form to get the basic shirt shape. With knit fabrics that have a fair amount of stretch to them, the stretch makes it fairly forgiving so you don't have to make a pattern beforehand. But, I will definitely recommend making a mock-up first if you are in doubt!
Go around the edges of the shirt fabric and cut off the excess. Leave enough for seam allowances. If in doubt, make it longer rather than shorter. You can always cut the fabric shorter later, but you won't be able to add the fabric back.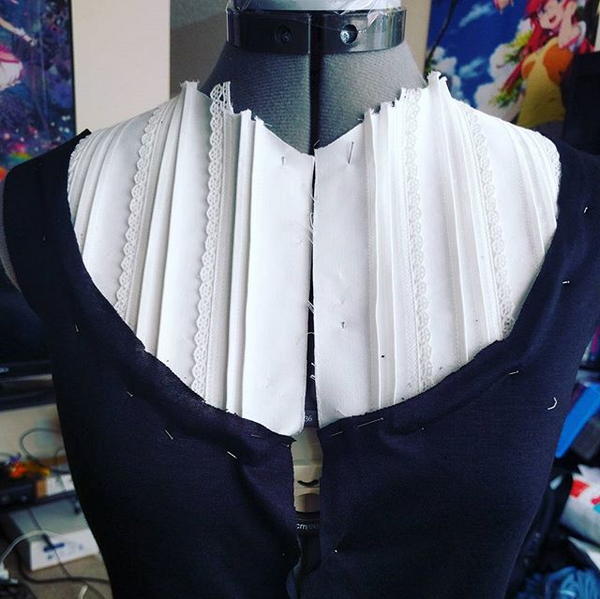 Now the bib is attached to the rest of the blouse. I found it easiest to fold and press the edges of the bib under and top stitched it down to the knit. I also sandwiched some lace trim between the layers to make it look fancy. I then finished the edges with an overlock stitch on my serger, but this isn't necessary if you do not own a serger. If your fabric is prone to fraying, you can try a zig zag stitch, fray check, or even an overcast stitch by hand.
I also started making the placket at this point. To make a placket, you can cut out a rectangle that is as long as the front of the shirt, and twice as wide as you would like the final placket to be. Don't forget to add enough fabric for seam allowances! Make two of these rectangles, one for each side of the shirt. You will not want to attach the placket just yet, but preparing it at this point will make it easier to size the ruffles/pleats that go under it.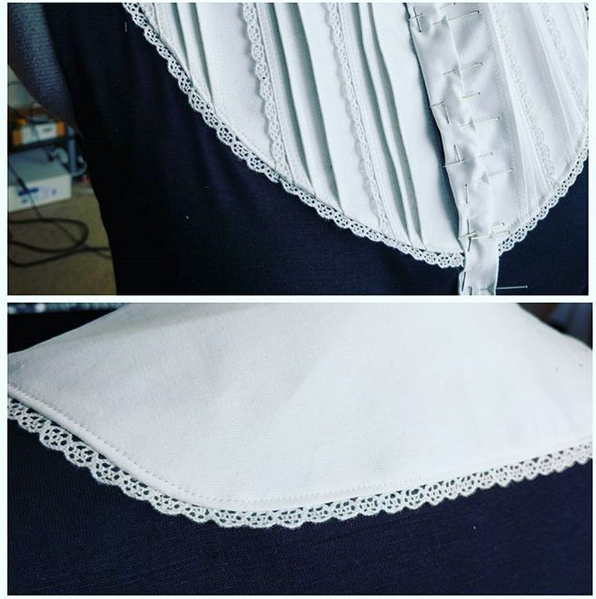 Making the Ruffles/Pleats
At this point you will need to decide if you want to go with pleats or gathers for the blouse. Based off the artwork, it looks more like pleats to me, and pleats will have a much more polished look to them than gathers. However, gathers will take less time, and if you use a fabric that isn't very stiff, it might not hold pleats very well. I chose to go with box pleats. Whichever you choose, you will probably want to keep it consistent across the entire blouse.
Again for the pleats, you will need to calculate out just how long to make the strip of fabric. Measure around the base of the blouse to get your starting length. You will then need to add in fabric for the undersides and back of each pleat. A simple way to do this is just triple the length of the fabric. This will give enough fabric for the folds on each side of the pleat to meet on the underside. So for example, a 1 inch pleat will have 1/2″ folds behind it, and a 1″ back between it and the next pleat. You can play around with a test strip to decide how you want the pleats to look.
Once you have your final length for the gathered/pleated strip, I recommend doubling the width of the final strip (seam allowances included!) and pressing the edge. This way you don't have to finish the outer edge of your gathered/pleated strip. Then sew it to the bottom of the blouse. I also curved in the inner edges of the strip rather than making a sharp corner, but this is up to personal taste. I recommend extending the strip out to where the placket will go so that it will overlap the other side rather than just leaving a gap.
This will depend on your fabric, but I found that my pleated trim didn't want to sit properly. To fix this problem, sew the seam allowance to the black knit section of the blouse. This is a process called understitching.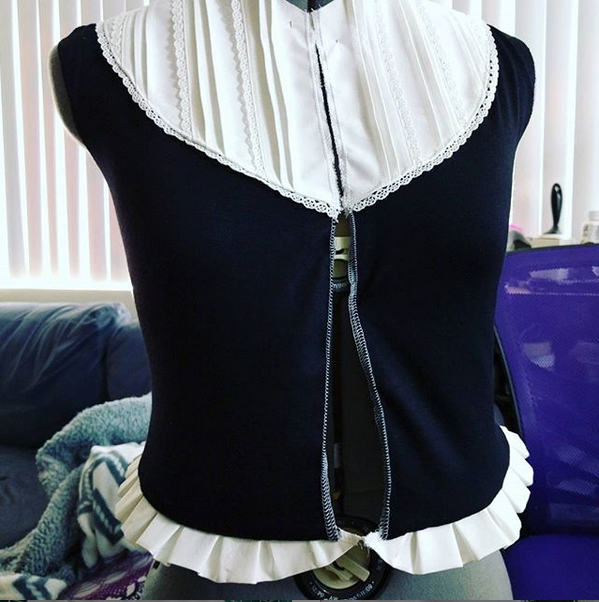 Now repeat the last section but on the sides of where the placket will go. I made smaller pleats for this section. It's okay if this section is too long, simply put the excess up at the collar. You can remove it when the collar is added, and the stitches from the collar will finish the edges for you. Note that on this part you will lay the trim on top of the fabric rather than sewing it right sides together.
There will be a LOT of layers, so I encourage you to work slowly and make sure to use an appropriate, larger sewing needle. Attach one layer at a time to keep everything properly tacked down. My machines struggled at some points on the white sections of this blouse purely because of the amounts of layers they had to work through.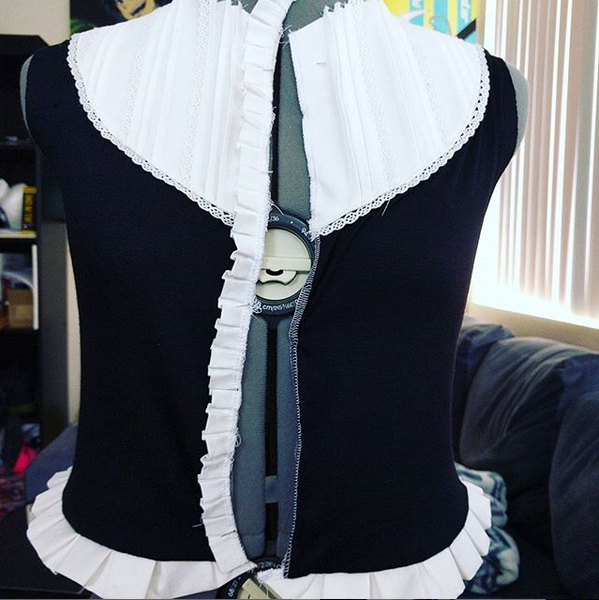 Next I attached the placket. If it was made in the same way, a folded over rectangle, you will sew down the three edges that aren't the fold. Make sure to catch the edge of the blouse in the long edge well enough. Also make sure the underside and the upper layer of the placket are properly lined up throughout so you will catch both as you sew. It will help to line the second strip up with the first as you attach it to make sure both sides match.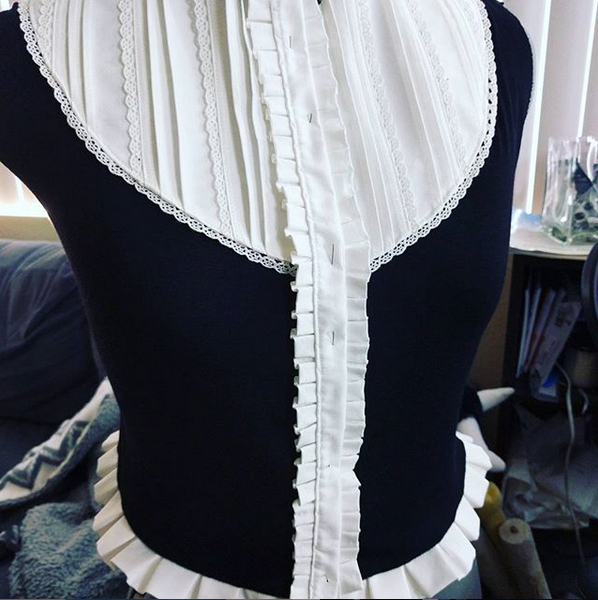 Now the collar can be attached. I used a typical collar with a collar stand. The collar stand is the somewhat rectangular strip of fabric that goes between the shirt and the collar, and is what the top button is placed in. When attaching the two pieces of the stand, again make sure that everything is positioned properly with the upper and lower layers being even so that you catch all layers while sewing.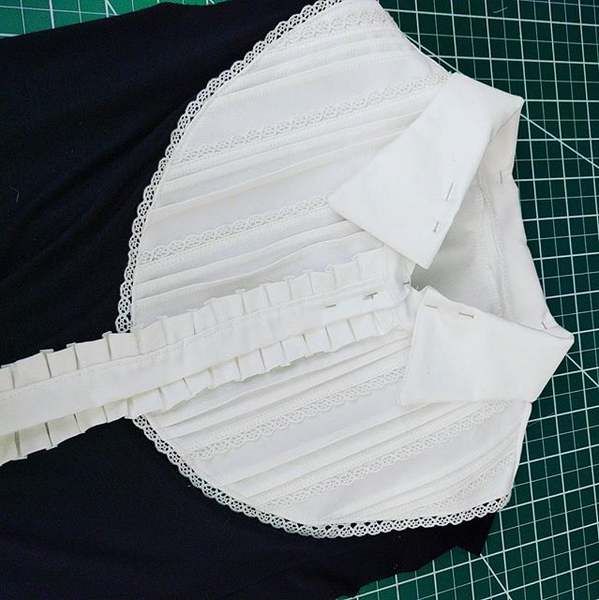 For the sleeve, I pinned the fabric around my arm, removed it, and stitched a line for the underside. Since stretch knit is so forgiving, you can make knit sleeves this way pretty easily, no pattern needed. I have done it for many cosplay sleeves, and boots/socks as well. Once the sleeve is sewn up, it will be sewn around the arm hole. Again, since it's forgiving, a simple oval will work. There's no need to have a perfect arm hole unless you are using a fabric with no stretch.
The cuffs are again done in the same box pleats as the other pleats on the shirt. This time the pleats will be much longer, but the strip of pleats will be shorter. For the cuffs, there are two tiers. I made each tier as a separate piece. Once each tier is pleated, they are attached at the end of the sleeve. My machine struggled a lot here and I broke several needles just due to the sheer amount of fabric I was sewing through. I would recommend trying to stagger where the cuffs attach to the sleeve to help try and limit how much fabric you need to sew through.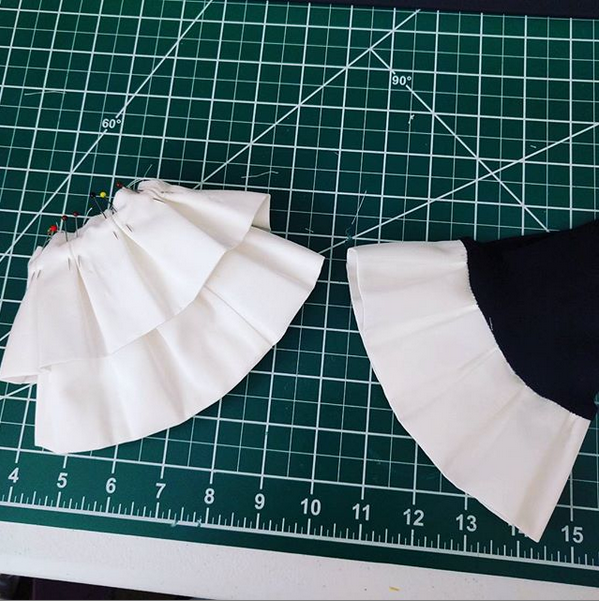 After the cuffs, all that is left are the buttons. Celeste's blouse buttons are only shown in one image, her illustration image. The buttons are done at regular intervals in groups of two. Mark where the buttonholes should go. Most sewing machines have an automatic buttonhole foot that you can use, so just follow the instructions and do that. If you can't use a machine for a buttonhole, hand worked buttonholes are an option, and frankly can look a lot nicer than machine buttonholes, but they are tedious. Once the buttonholes are completed, pin the two fronts together and mark through the buttonhole where the button should be sewn. Then, attach the buttons. I used pearl and gold shank buttons to have a more elegant look.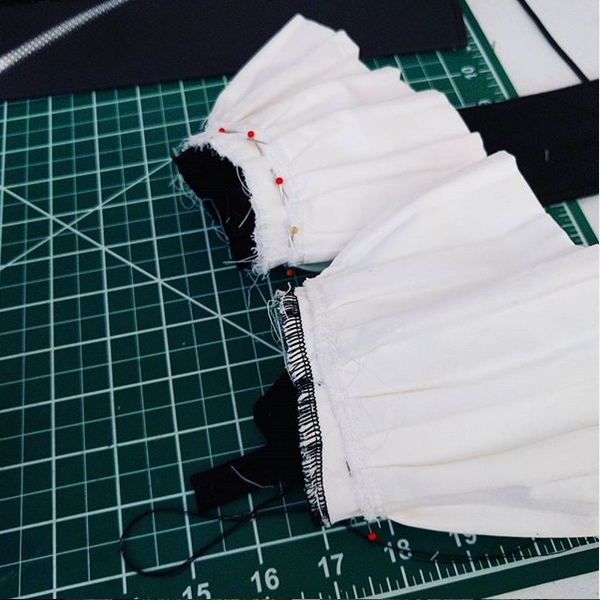 Celeste has a very large skirt with a lot of volume. A hoop skirt could be used, but traditionally petticoats are more prevalent in EGL fashion. So, to make a petticoat strong enough to hold up a skirt like this, a lot of a strong fabric needs to be used.
A note: I don't ever recommend using tulle for a petticoat being used to provide volume underneath a skirt (instead of say, to smooth out visible hoops, an overlay, or tutu skirt, all situations where tulle is fine). Tulle has a tendency to pack into itself over time and will deflate fairly quickly. If you're making a petticoat yourself, it takes quite a bit of time, so you want to get the longest lifespan possible out of it. For my petticoats I like to use organza and if needed a heavier nylon netting. Depending on your organza and netting, you might find the netting unnecessary. For the first three petticoats I made, the organza wasn't stiff enough to hold up well, so there is a layer of netting between two layers of organza. However, the organza I used for the Celeste petticoat was stiff enough that I found the netting layer to be unnecessary, and would probably make it out of just organza if I was doing it again. I would recommend keeping any netting between layers of organza as netting can be scratchy.
For my skirt I made an A-line petticoat and you may be wondering why you would use an A-line petticoat for a bell shaped skirt. In my experience, using an A-line petticoat will not matter as much as the shape of the skirt/dress going over it for the final silhouette that you will get. This is one of the cases where gravity is your friend and will squish down the edges of the petticoat. However, it is probably best to use a bell shaped petticoat, so I would recommend that over the way I did mine. If you'd like to use a bell shaped petticoat you can, simply make it into two tiers with a shorter one at the top and a longer one below. This is specifically with respect to a tiered skirt like Celeste's so your mileage may vary with other skirts and purchased petticoats. Since I did make my petticoat this way though, the information included below will be for an A-line petticoat. This is how I made my outfit, not necessarily the best way to do it, so change things as you see fit!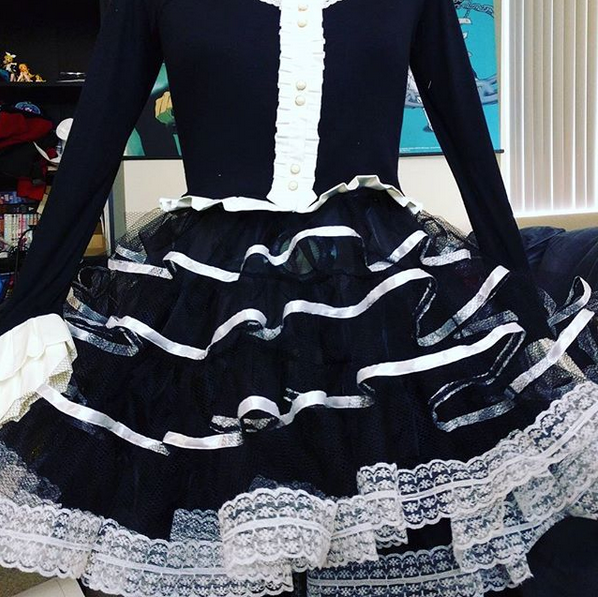 Pictured is the petticoat with just the lower organza and middle netting layer. The top organza layer is missing from this photo.
The first part of planning out a petticoat is math. You will need to know your waist measurement and the length you would like the final petticoat to be. Also plan out if you would like to add a lace trim and how wide you want the waistband to be. For waistbands, I like to use 1″ wide (2.54 cm) heavy duty elastic.
First: The tiers
Decide how many tiers you would like. I usually use four, but you can use however many you want. Note that if you're doing a shorter petticoat, the more tiers you add, the more you might struggle with bulky fabric up close to your sewing machine.
Take your length measurement, subtract the waistband and lace trim measurements from that, and divide it into how many tiers you would like. Add a small amount to account for seam allowance, maybe 1/2″ (~1.25 cm), and that will be the height of your strips.
Then: The strip length
To keep it easy, you can just work with 2 yard strips (1.8 m), especially if your hip measurement is around a yard (36″, 0.9 m). If you're used to using meters, you could also use 2 meters to make it easy. A general rule is 2x your hip measurement, but it's not strict at all and depends on how big of a petticoat you want. For a larger petticoat, make the strips longer, and for a smaller petticoat, make the strips shorter. You won't notice much of a difference if you're off by a few inches though.
Finally: The tiers' circumference
This part is pretty straight forward. Each tier's circumference is just double the length of the previous one. Tier one (the top one) is one strip. Tier two is two strips. Tier three is four strips. Tier four is eight strips. If you're using 2 yard (1.8 m) strips, that gives you a full 16 yards (14.6 m) of length around the base of each layer.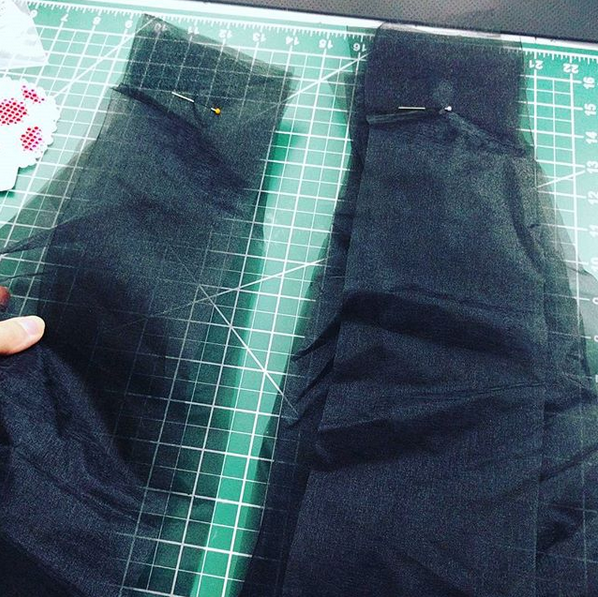 Work in Progress, rest coming soon!